Good evening :)
So here are my looks for the past two days…
- Free People yellow tank with design
- gray cardigan
- gray leggings
- brown belt
- boots
- Urban Outfitters patterned top
- F21 bubble skirt
- Wet Seal charcoal leggings
- boots
Please excuse my inability to remember where the clothes are from :) Some of these things I've had forever.
Okay so anyway, today was another day at school - nothin' different.  It seems like all my teachers are trying to squeeze every single test and/or quiz in at the last minute before break.  Meaning this weekend is going to be spent half studying, half….not.  Maybe that ratio was way a little off, but it doesn't matter :)
Yesterday after school my sister and I went shopping.  What a shock there, right?  Just to let you all know, yes I might go shopping a lot, but that doesn't mean that I buy something every time I go.  Now that I have my own money, it's a different story.  ANYWAYS..as I was saying, we went shopping and I found that my precious Seychelles Orchestra Boots are no longer at Nordstrom.  So now, I think I'm going to order them offline…thank god I already tried them on! 
Now on to my recent food encounters…
After seeing this bread on numerous sites in the blog world, I knew I had to try it….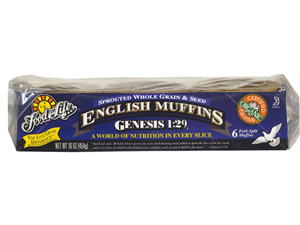 …and I'm in love :)
Ezekiel English Muffins taste so good, especially in the morning slathered on one side with some PB (peanut butter) and the other side PB (pumpkin butter).  Yum!
I found them in my local (and brand new!) Wegmans grocery store in their HUGE organic section, but they can be found anywhere.  I'm anxious to try their other products.
What's your favorite food to have for breakfast?
That's it for tonight and my random babblings,
Have a good evening!